Youth Joining The RSS In A Big Way – Dattatreya Hasbale Ji
Bhopal (VSK). The RSS has been constantly spreading its activities in the country. Last year about 550 new places were covered. At present RSS shakhas are organised at more than 34,000 places daily, while at more than 15,000 places weekly "milan" (group meeting) programmes are held, which means that at 49,493 places the RSS activities are happening currently on daily or weekly basis, said RSS Sahsarkaryvah Dattatreya Hasbale Ji at the inauguration of the three-day RSS all-India executive council (Akhil Bharatiya Karyakari Mandal) meeting here. He said that the number of Shakhas had increased by 1600 while the number of weekly "milan" programmes has gone up by 1700. He said there has been a considerable increase in the number of youths coming in the fold of the RSS.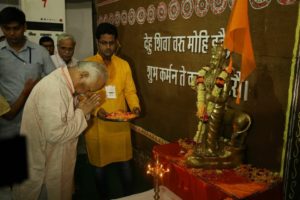 RSS sarsanghchalak Dr. Mohan Bhagwat Ji and Sarkaryavah Suresh Bhaiyyaji Joshi inaugurated the three-day meeting by offering flowers at the picture of Bharat Mata. About 350 RSS karyakartas took part in the meeting which included office-bearers from 11 regions and 42 states.
Sahsarkaryavah Ji said the youth was playing a significant role in the expansion of the RSS. A large number of youth have joined the RSS under the Join RSS, campaign. There has been 48 per cent increase in the number of youths joining the RSS in 2016, while in 2017 it has been 52 per cent increase. Mostly the youth has been in the age group of 20-35.
He said due to the activities of the RSS there has been a substantial transformation in about 450 villlages. The RSS campaign on family bonds that started in Karnataka 15 years ago, has spread all over the country as there have been some very positive results of it.
He suggested that Dr. APJ Abdul Kalam's book on this topic must be read by all as it was based on his dialogue with the Jain saint Acharya Mahapragya. The book gives fine details about the link between the family values and nation-building.
He said the meeting would decide about the action plan of the RSS for the next three years.