A man who was born with a disability, spent eight years in an orphanage, cleaned DTC buses, and worked as a waiter to survive, has beaten all odds and become the only Indian to clinch gold in men's 100mT35 category in recently concluded Asian Para Games held in Jakarta
In the narrow and dirty bylanes of Samaypur Badli's Raja Vihar area somehow I managed to find the house of Narayan Thakur at the same time it was depressing to see the conditions in which an Asian Para Games Gold medalist lives in. The heap of garbage next to his house and the weak domestic conditions was sufficient to suggest that his journey was a gritty one.
On October 9, Narayan Thakur scripted history. The 27-year-old para-athlete who was born in Darbhanga, a city of Bihar before he moved to National capital as a teenager, became the first Indian to clinch a medal in men's 100m T35 category when he stood atop the podium for his gold medal at the 2018 Asian Para Games held in Jakarta.
'I cleaned buses and worked as a waiter'
The story of the 27-year-old para-athlete is an inspiration for many. Narayan took birth with left-sided hemiparesis. On asking what, is 'hemiparesis', he said, "Under this condition, the left side of your body became paralysed." Narayan was suffering from Dengue when Organiser team reached his place. Lying on the bed, Narayan told the magazine when asked about how he managed to reach at this level despite uncountable barriers; he said, "Nothing is impossible. You can achieve anything with fierce determination, hard work and self-belief".
Narayan's family came to Delhi when he was too young. The family thought migration to the national capital would change their fate but destiny have other plans for them to make the things worse. A few years later, a tumour was detected in his father's brain, due to which, he passed away. "I was only eight years old when my father passed away. Our world has changed after his death, my mother was helpless, and it was very tough for her to feed three children. She could hardly afford it. At the same time, she was worried about our future also so she decided to sent me to an orphanage 'Rani Dutta Arya Vidyalaya' in Daryaganj, as I would get food to eat and the chance to study with other facilities."
'I wanted to be a cricketer'
Narayan Thakur said he was always interested in sports and cricket was his first love. Narayan informed the magazine about his unexpected journey from a cricketer to an athlete. "I wanted to play cricket, but somehow it did not happen. While I have played cricket up to the national level but somehow failed to achieve much by playing cricket. One day Dr Shivaji, who used to take care of my medical advised me to try my hand in athletics. And then the transition to athletics happened."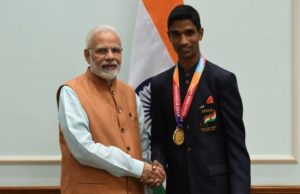 In 2010, when he moved out of the orphanage, he again started staying with his family in jhuggi (temporary homes) near Samaypur Badli railway station. "That was the time when the jhuggis we were staying near Badli were demolished. We had no option but to shift to a nearby area. We were facing serious financial. I had to clean DTC buses to earn money. It was tough for me to pursue my sports in the tough times. Even I worked as a waiter for just Rs250/day for nearly two years," Thakur informed. But this was not the end of his tough times. When he started preparing for athletics, he had to go to Jawaharlal Nehru Stadium for practice, and hardly had any money to travel daily to the stadium as he had to change three buses from his home to the stadium.
"I could not afford to spend 40 to 50 rupees on bus tickets to reach Jawaharlal Nehru Stadium daily, so I changed my venue of training. Then I shifted to Thyagaraj Stadium for training. I left no stone unturned to get selected in the national and international championship", he said.
In the year 2015, he bagged bronze in 100m category in National Paralympic Championship. And since then Narayan is continuously performing well. It is the result of his hard work and dedication; he won gold in Jakarta. "I am happy to have won the gold for India in Jakarta. I am the only Indian to have won the athletics 100 m gold in Asian Para Games," he confidently said.
'Winning gold in 2020 Tokyo Olympics is my next target'
While only two years is left in Tokyo Olympic, Narayan said "I could not afford to waste a day. Winning Gold in 2020 Tokyo Olympic is my next target, or you can say it is my dream".
Narayan is very sure that his gold medal at Jakarta will change the journey ahead. "I was given a cheque of Rs 40 lakh by PM Modi during a felicitation programme. While Delhi's Chief Minister promised me of a government job, I also hope to get some financial reward from the Delhi government," he said. When asked what he would do with the cash reward, he says, "I will use this money to build a house for my family and spend the rest on my training."