CRPF tasked with maintaining internal security and safeguard lives across the country has joined the fight against Chinese Virus. As the country is battling a 21-day lockdown to stem the increase in Wuhan/Chinese virus infections, CRPF personnel have decided to contribute a day's salary amounting to nearly Rs 34 crore to the Prime Minister's National Relief Fund.
The decision to set apart a day's salary for the PM's relief fund was taken on Wednesday and was unanimous. This donation by CRPF which has around 3 lakh personnel would amount to Rs. 33.81 crore. A cheque in this regard will be presented to the home minister Amit Shah by CRPF DG AP Maheshwari soon.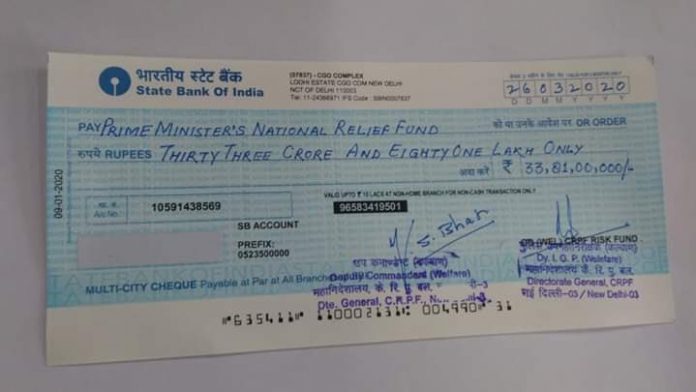 A CRPF spokesperson on Thursday had said that CRPF was dutifully committed to standing firmly with the nation in this challenging time of Covid-19 spread. Consequently, CRPF had postponed all its programmes in connection with its anniversary on March 19 in tune with govt advisory in breaking the transmission chain of the emerging public health challenge. However, as a mark of respect and commitment, senior officers paid Homage to Martyrs at CRPF Martyrs Memorial, GC Gurugram.
The CRPF is also helping stranded passengers at several parts of the country. On March 22nd, passengers were stranded on NH44 after a day's 'Janta Curfew' was announced as shops and establishments were voluntarily closed. On being informed of the passengers, 24 Battalion of the CRPF immediately rushed to the spot and provided water and eatables to them.
On March 24th, passengers were stranded on NH 44 at Lakhanpur near Jammu. 121 Battalion of CRPF rushed to the spot and provided water and food packets to the passengers. CRPF has also arranged food for the destitute and road-side dwellers at several locations.