Netizens demand sedition charges against a Kerala Islamist youth for calling for avenging the killing of terrorist Hizbul Riyaz Naikoo. A Jamaat-e-Islami follower and former student of Aligarh Muslim University (Malappuram Special Centre), Naji Mehardad posted his antinational views as a Facebook comment, which amounts to charges of sedition and supporting an Islamic terrorist group.

In Facebook comment, posted in a group called 'Freethinkers', Mehardad said, "Our Kashmiri boys will avenge the killing (of Riyaz Naikoo) within 24 hours. Insha Allah!" The Facebook post was about the arrest of the Hizbul Mujahideen terrorist Tanveer Ahmer Malik, who was hiding in Tantna Village of Doda district.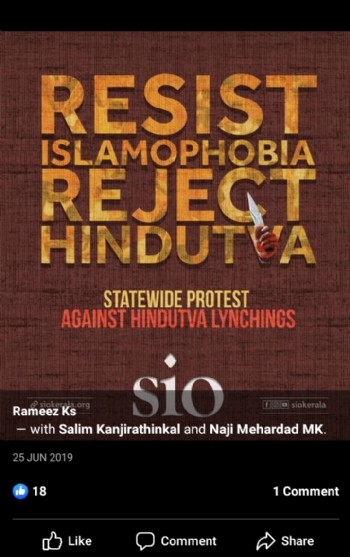 As per his Facebook profile, Mehardad is graduated in Islamic Studies and Arabic from Irshadia College, Kozhikode. He also studied at the Malappuram Special Centre of Aligarh Muslim University.
 
Mehardad was seen sharing social media posts hailing, Maulana Maududi, an Islamic bigot who founded the radical Islamic outfit Jamaat-e-Islami. In his Facebook profile, Mehardad has mentioned 'Qilafath' as his political views.
He also shared Facebook posts of Students Islamic Organisation (SIO) and Fraternity Movement, students movements of the Jamaat-e-Islami. He is suspected to be a member of the SIO, the new avatar of the banned terrorist outfit SIMI aka Students Islamic Movement of India. 
 
Hizbul Mujahideen, a brainchild of Jamaat-e-Islami
 
In February 2019, Jamaat-e-Islami was banned in Jammu and Kashmir under the Unlawful Activities (Prevention) Act for alleged anti-national and subversive activities. The Home Ministry had found that Jamaat-e-Islami J&K was involved in anti-national and subversive activities in the country and was in close touch with many terrorist outfits. According to Delhi-based think tank, Institute for Conflict Management and intelligence sources, Jamaat-e-Islami founded Hizbul Mujahideen, the most dreaded terror group in Jammu and Kashmir at the request of the ISI.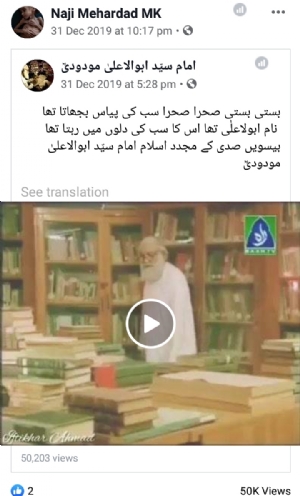 Riyaz Naikoo, who was killed in an hours-long military operation in Pulwama's Beigpora village, Jammu and Kashmir, was the most wanted Hizbul Mujahideen terrorist. Four Indian soldiers and a policeman were martyred in an encounter in North Kashmir's Handwara on Sunday. In another encounter with terrorists, three CRPF personnel were also martyred. Naikoo carried a bounty of ₹12 lakh on his head, being an "A plus plus" category terrorist who remained "the most wanted since 2018".
Red-Jihad on the rise in Kerala
When Mehardad's comment went viral on social media, it was highly criticised and condemned by various nationalist profiles. However, the sympathisers of Islamic-Left-wing terrorists extended wholehearted support to him. Northern Kerala has been on the radar of Indian security agencies for various reasons, especially for the Left-Jihadi nexus being operated from the region. Last week, the National Investigation Agency (NIA) had taken into custody three youths, suspected of being in contact with Alan Shuhaib and Thaha Fazal who were earlier arrested under the Unlawful Activities Prevention Act (UAPA) over alleged Maoist links. Among those arrested was Abhilash Padachery, a journalist with the Thejas News, the mouthpiece of the Islamist fundamentalist outfit Popular Front of India.