"Preservation environment is core value of our culture" PM Narendra Modi lauds the efforts of 130 core Indian. In a message for success of nationwide campaign by Hindu Spiritual and Service Foundation, Modi appreciated foundation's well thought initiative to create awareness amongst the masses for sustainable development and protecting our biodiversity in this difficult times. A Message by HONOURABLE PM NARENDRA MODI to appreciate, applaud and inspire Hindu Spiritual and Service Foundation [HSSF] and Initiative For Moral and Cultural Training Foundation [IMCTF] for jointly organizing – Prakriti Vandan. in Association with Paryavaran Sanrakshan Gathividhi a Wing of RSS to imbibe reverence towards the Nature"s creation, in more than 500 centers in the country and Globally more than 25 countries on 30th August 2020 from 10.00am to 11am. We are expecting more than 1 crore fellow citizens to join this unique one of its kind program. It is going to be virtual program of participation from their respective home. This initiative is to create reverence towards Mother Nature and Mother Earth. Honourable Prime Minister, wishes that HSSF continues its endeavor to propagate "SANATAN" and Universal values to spread the message of love, harmony, compassion and brotherhood.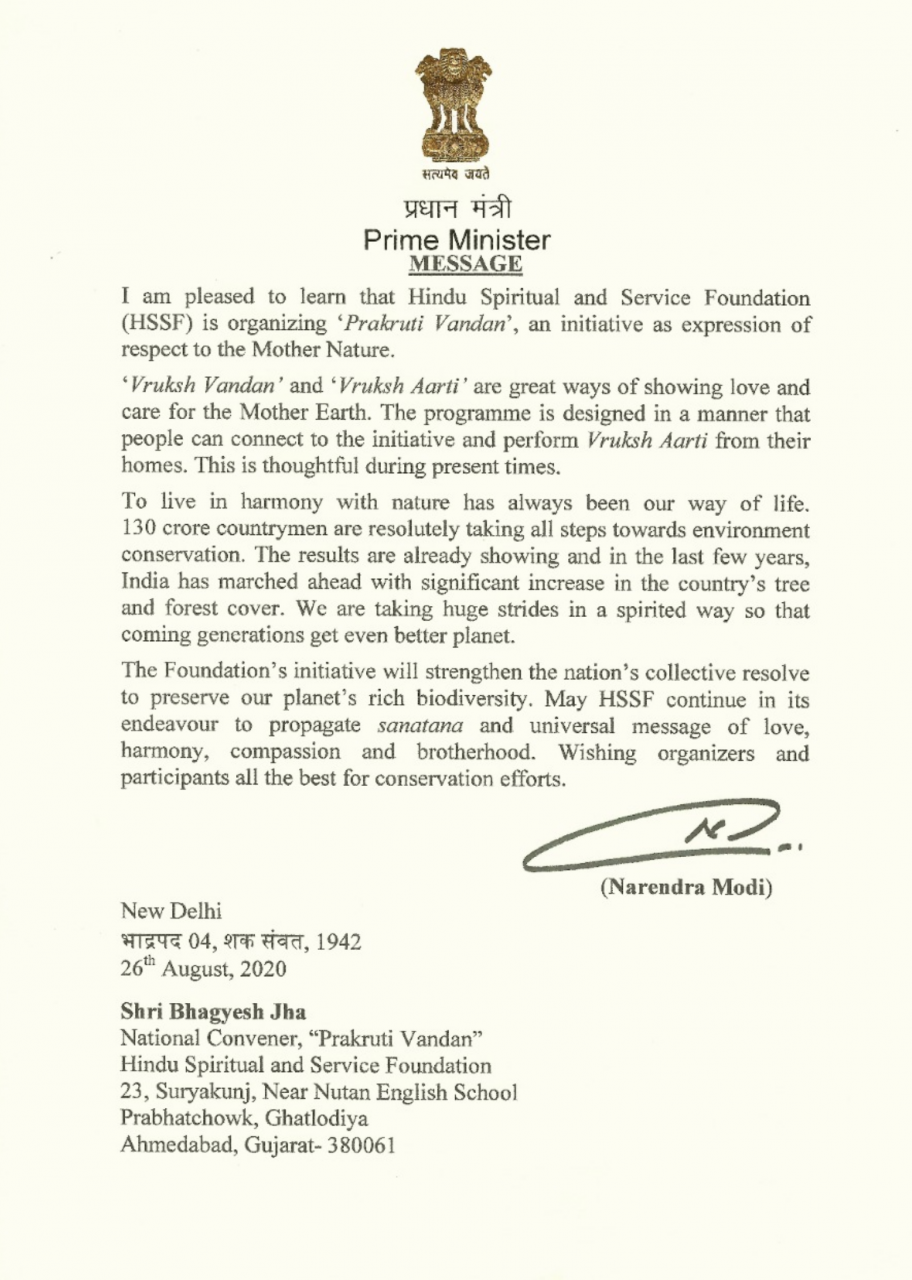 HSSF was founded on the motto – Athmano Mokshartham Jagat Hitaya Cha…. – meaning of the Rig Veda dictum – Service to beings – animate or inanimate-is the way to attain Moksha, through main four pillars of the "Sanatana Dharma" viz. families, societies, economies of nations and humanity. It is important to understand humanity for which to understand life values also is equally important. HSSF has defined these life values in six basic themes :
(1) Preserve Forests and Protect wild life; (2) Conserve Ecology; (3) Sustainable environmental protection; (4) Inculcate Human & Family values; (5) Foster Women Respect and (6) Instill Patriotism.
IMCTF was founded on the Isavasya Upanishad first verse – "Isawasyam idam sarvam, yat kinchit jagatyaam jagat. Tena tyaktena bhunjita maa grudha kasya swid dhanam.. "Mahatma Gandhi explained the meaning as –"Everything animate or inanimate is the manifestation of the Divine creation". Paryavaran Samrakshan is a wing of Rashtriya Swayamsevak Sangh which is working for environmental protection is also associated with this programme. Living in harmony with Nature has been an integral and unique part of our Bharatiya culture and tradition. This has been abundantly reflected in a variety of traditional practices, religious beliefs, rituals, folklore, arts & crafts, and in the daily lives of the Bharatiya people from time immemorial. "Prakruti Vandan" highlights that all creations in the Universe are Inter-related, inter-dependent and integrated. The Program is about doing a symbolic "Prakruti Vandan" innovatively, keeping in mind the new norms of Social and Physical distancing and by wearing mask. This program will be live through various tools of Social media. It is expected that families perform " Vandan" at home or Personal garden or Public gardens (with maintaining all type of physical distancing norms and wearing masks) at the same time.Vandan by doing Aarti Registration for this program in already in process through this link : https://sankalp.paryavaransanrakshan.org/sankalp/prakruti-vandana
In this crisis time, When are redefining new normal, Prakruti Vandan is the most suitable programme which will reconnect us to Mother Nature." said Bhagyesh Jha – National Program Convener – Hindu Spiritual and Service Foundation.
Let us all join hands for noble cause to protect and make a sustainable environment so as nature and natural resources could be preserved; by which we will be honored with blessings of mother earth, resulting into ecological balance. Let us start our sincere efforts and put them into action.