Hindus-Muslim Conflict Will Resolve Through 'Hindu Way' – Dr. Mohan Bhagwat Ji
Kolkatta. Rashtriya Swayamsevak Sangh (RSS) Sarsanghchalak Dr. Mohan Bhagwat Ji on Tuesday (03rdOct.) said that in spite of a conflict between Hindus and Muslims, one day the two communities will have to find a path of the solution and that path is the  "Hindu way".
Speaking on the occasion of 150th Birth Anniversary Celebration of Sister Nivedita at Science City Auditorium in Kolkata, Sarsanghchalak Ji said, "We may have different 'chitt' (mind), but despite that, we can walk together. There will be
a difference in opinion, but for Bharat, we have to walk together. Bharat is our Dharma and we have to look forward to Ek Bharat." Recalling a brief conversation with a Muslim scholar, Bhagwat Ji read out Sister Nivedita's idea of Nationalism and said, "The Muslim scholar was a former MP, and once he asked me why I opposed Sachar committee. He admitted that all of them were once Hindus (a long time ago), adding that since they had a habit of singing bhajan (when they were Hindus) – they are into Qawwali now. I am not saying this. These are his (Muslim scholar) words. He had said that the Sachar committee will help us understand our history through education and then the conflict will end forever. I told him that I am aware of these facts and Dr. Keshav Rao Hedgewar told me this in 1925. I further told him that the problem is that the people he represents are not aware of these facts. I told him that educate these people, and I will withdraw my opposition to the Sachar Committee. I told him that we have digested so many things in the past, but in recent past, there was some indigestion (Hamara Hazma Kharab Ho Gaya Tha)."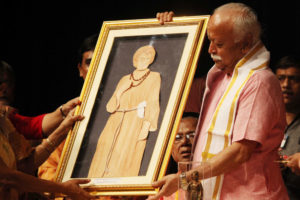 Hinting at the portrayal of Ganga as Bharat, he said, "Ganga remains Ganga despite so many rivers flowing into it. It will remain Ganga, and no one can change it. Sister Nivedita said there cannot be a nationalistic feeling in the country if people continue fighting each other. She had said that we have to learn from European people how to rid ourselves of internal differences."
His visit to Kolkata turned into a controversy after the authorities at Mahajati Sadan – an auditorium run by the West Bengal Government – had denied permission on September 6 to hold the event organised by Sister Nivedita Mission Trust, citing renovation work as the reason. However, the opposition leaders alleged that the government deliberately refused to accept the hall booking because of Mohan Bhagwat's speech.
Bhagwat's visit was closely monitored by the state government. Ever since Mamata Banerjee came to power in Bengal, the Sangh's membership in the state
has increased by nearly five times. Not only the Hindus but several leaders from the Muslim community, have also joined the RSS and have been working extensively on rural development in Bengal.
This was Bhagwat's third visit to Bengal in the last ten months. On January 14 for the first time addressed a Hindu Sammelan at the Brigade Parade Grounds, the largest venue for holding any political gathering in Kolkata. Even then, his visit had courted controversy after the Kolkata Police denied permission for a rally in the city, prompting the Sangh to move Calcutta High Court for approval.