Growth in Sangh work is assuring, asserts Sarkaryawah Bhayyaji Joshi.
Nagpur, Mar 11: With the toil and dedicated hard work of the thousands of our karyakartas the state of Sangh work today in the entire country has reached a satisfactory state after continuous work for over nine decades, asserted Suresh alias Bhayyaji Joshi who was re-elected as Sarkaryavah during the second day of the three-day meeting of the RSS Akhil Bharatiya Pratinidhi Sabha (ABPS) here.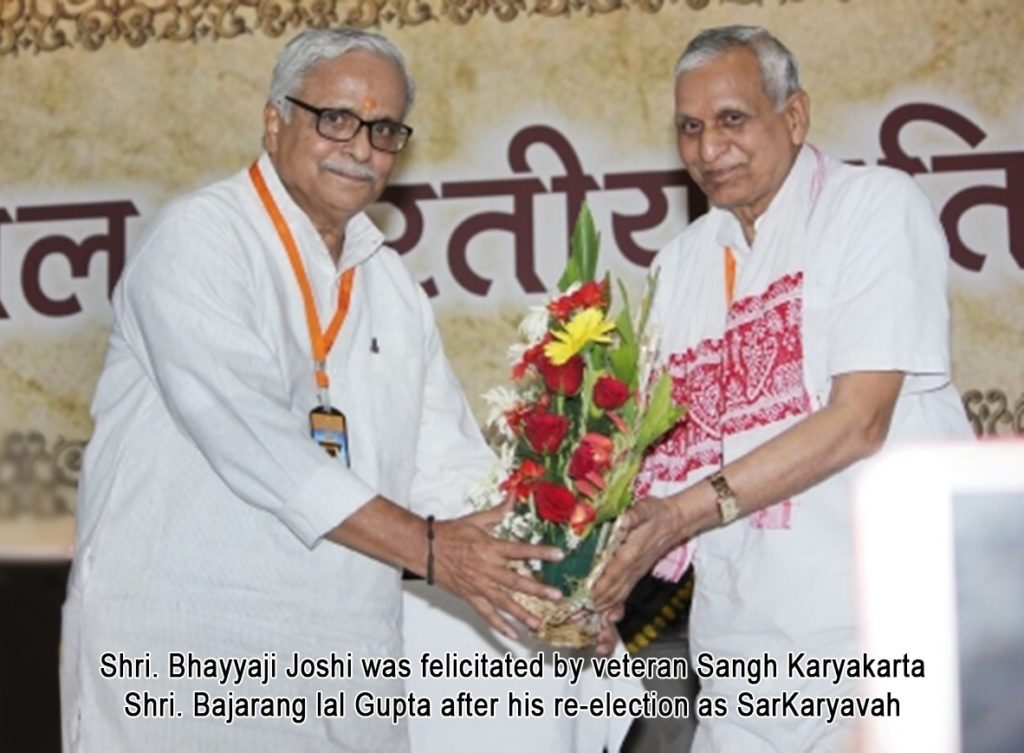 Bhayyaji Joshi will be the second such incumbent to the post to get re-elected four times in consecution after the late H V Seshadri who remained as Sarkaryawah from 1987-2000. He was interacting with the journalists on Sunday at Reshambag premises where the ABPS was going on.
Bhayyaji Joshi said that it was not easy for an organization like RSS to reach 60000 villages in 90 years and set up over 80000 units or shakhas. Sangh is not a crowd or mass movement started to achieve some short-term goals and thereby gain popularity, he said adding that the purpose and mission of RSS was to instil good virtues, build men with character who will in turn take this nation to the glory.
But the success Sangh could achieve in expanding its reach covering almost all the social segments and strata was remarkably satisfactory and is indicated by the fact that the acceptability of Sangh has increased manifold with most people wanting to know and understand more about the RSS. They even evince interest in joining the Sangh work, he noted.
He mentoned that members of the elite sections of the society meet Sarasanghchalak during his tour and we are getting a positive response from them. Citing an example of special band (Ghosh) program held in Nagpur in November 2017 titled 'Swarsammohini' he said that the stalwarts from the field of music who attended that program gave a standing ovation to the players of band platoon that presented a sixty-minute show based on Indian Ragas.
Giving another example of 'Rashtrodaya Sammelan' held at Meerut in UP, the Sarkaryawah said that food packets for the participants were collected from over 3.5 lakh houses cutting across caste, creed and religion barriers. Even the Muslim families came forward and provided food packets, he said.
In Tripura, 15000 people participated in the Sangh program when there was Communist rule, he said adding that all these incidents explicitly underlined the growing acceptability of RSS among the cross sections of the society. It has been our consistent endeavour to expand our reach to every nook and corner of the country, he said.
In the coming three years we will chalk out a plan to reach the hitherto unreached areas and sections of the society leaving behind all our lacunae, Bhayyaji said. We intend to expand our reach by almost twice of what we have today, he added.
Resolution on Bharatiya Languages:
The Sarkaryawah said that the Pratinidhi Sabha has discussed a very important subject that has been a matter of concern for all for quite some time. There is a big question mark on purity of our languages and dialects due to growing influence of foreign languages and entry of foreign words into them. The Sangh was not opposed to learning languages for earning knowledge. But there is a need to preserve and promote our own languages, he said adding that the Pratinidhi Sabha has passed a resolution to this effect.
He said that we appeal to all sections of the society to preserve their mother tongues and dialects and safeguard the literary heritage they contain therein. We must on priority use our mother tongues in our daily life, he said. We need to understand the languages of Bharat in order to know Bharat, he added.
Ram Mandir at Ayodhya only:
In response to a question on Ram Temple at Ayodhya, the Sarkaryawah confidently asserted that Ram Mandir will be built. But a certain process was to be followed for this, he said. The case is pending in the court and we are waiting for its verdict on the title suit. After the court verdict on the title suit, the process on temple could begin. Consensus on this issue is welcome, he said in response to a question but hastened to add that it seems difficult to strike consensus. Those who are associated with this issue from the beginning should be consulted by anybody desirous of finding amicable solution to this vexed issue, Bhayyaji said responding to a question on mediation efforts by Sri Sri Ravishankar and others.
Situation in North-east:
Replying to a question on the spectacular political victory of BJP in the north-east region, Bhayyaji said that we do not believe in political victories with or without help if some forces. Our karyakartas were instrumental in the growth of our work and the BJP came to power not only because of Sangh but because of the strong yearning for change among the people, he added. The social atmosphere was favourable to the BJP and that reflected in their victories, he said.
To a question on RSS support to BJP, he said that a common man in the country is behind the government. He is impressed by the good work of the government. On the Lingayat issue, he said that we believe that sampradays can be different in Bharat but they have some fundamental unity elements. We are harping on these fundamentals that underline their unity and remove the differences.
Scripts for languages:
Responding to a question on dialects, Bhayyaji said that most dialects do not have script. But they need script to document the literature inherent in them. He referred to Bodo Sahitya Parishad resolution to use Devnagari script for their language. He however, opposed to use of Roman script for Indian languages and dialects.
To another question on seemingly contradictory views expressed by some of the Sangh associated organizations on decisions taken by the BJP government, Bhayyaji said that all the organizations have independence to carry out their missions. The government has their limitations and it cannot fulfill all demands. However, these organizations are advised to firmly believe in their mission and take stand accordingly as and when required. There can be differences of opinion but that should not lead to differences of mind.
On farmers' issue, he said that practical solutions with sensitive approach are required to be found out to the issues farmers are facing. There are many aspects. We need to bring about a change in the farmers' approach to various problems also. No government can have an insensitive approach to the farmers' problems. They should give proper price to their products and also encourage the farmers to take to new experiments to improve their situation.
On political killings:
Replying to a question on political killings in Kerala and Punjab he said that the government should see that such events do not take place at all. But in such cases, the government has a responsibility to bring the culprits to book in such cases. The RSS condemned all such killings he said, adding that we help the victim families and extend help to them.
In response to a question of economic offenders, Bhayyaji said that the government must take stringent steps to arrest such happenings. Those who fled the country have taken money from the banks. We need to strengthen our system to overcome this type of situations. We need to make our system most fool-proof and secure.
Desecration of statues:
On destruction of statues in the aftermath of Tripura election, Bhayyaji posed a counter as to why the media failed to create and atmosphere on killings of innocents in Kerala and elsewhere? Stating unequivocally that the RSS condemned all such incidents of desecration of statues, he said that the tendency of intolerance and attempt to create confusion and conflict in the society was more serious. The administrations should remain vigilant to thwart any such attempt lest it vitiated the social harmony and communal peace.
Prachar Pramukh Dr Manmohan Vaidya and Sah-Prachar Pramukh Narendra were present on the occasion.