One third of all the COVID-19 infections in India can be linked to the Tablighi Jammaat Markaz which was held in Nizammuddin area in New Delhi. Other than the infections in Delhi itself, 192 Tablighi members including 21 foreigners have been tested positive for the virus. According to the Home Ministry records, there have been 14 deaths, including that of 2 foreigners from among those who attended the Markaz.
 
As of April 1, 2020, 1,637 and 38 people have died of Chinese virus in the country. The government has categorically said that the number of coronavirus infections increased yesterday due to the religious convention of Tablighi Jammaat in Nizamuddin area of ​​Delhi. Only yesterday, a total of 386 people were infected with the deadly virus.
 
On Wednesday, it was reported that 7,688 Tablighi Jammaat workers and people who were in their contact have been traced. Among these, 171 were affected by corona.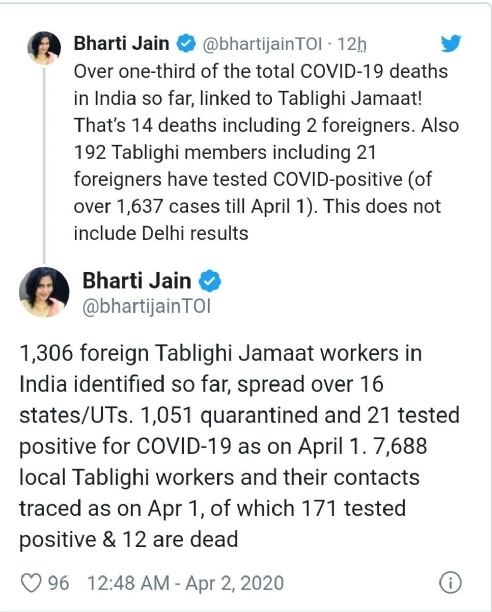 Speaking to journalists along with other Home Ministry officials, Lav Agarwal, Joint Secretary of Health Ministry, attributed the rise of coronavirus virus mainly to the Markaz organized by Tablighi Jammaat in New Delhi's Nizamuddin area. Agarwal said that 1800 people who attended the Tablighi Jamaat conference have been sent to 9 hospitals and quarantine centers.
 
The Joint Secretary urged people to follow the guidelines of the Lockdown and reiterated that social distancing is the best solution to combat COVID-19's deadly epidemic.